100,000 Hits!
With only 2 weeks to go before S&K hits it's 6 month anniversery, today was another milestone for the comic as it received it's 100,000th unique visitor. I just want to say a big "THANK YOU" to the readers out there and all who've supported me this far. I hope I may improve upon and produce work that you will all enjoy in the months to come!
-Clef
50,000 Hits!
Today S&K celebrates the day it received it's 50,000th visitor. I find this a milestone because this comic has only been going for three months. I don't know what kind of traffic the more popular comics pull in, which is obviously substantially more, but nonetheless I am proud of this. Thank you all for contributing to this and I hope I can produce good enough work to convince you all to keep stopping by once in a while :)
Also, recently I added a few things, such as a flag counter to see how widespread my readers are, as well as a new image on the site header.
-Clef
Diadra Empty Fanart
When I left WoW prior to my deployment, Diadra Empty was the primary game that filled the void, so to speak. Developed as an independant game by Japanese doujin game maker Huougaki Yukiusa (aka Icewind), the game turned out to be one of the single most funnest games I had ever played. It has essentially everything it needs to be more accuretly called "replay value in a box". Seriously, I have beaten the game over 200 times and I am still not bored of it. As a token of thanks, I developed some fan art and sent them to Mr. Yukiusa. He replied that he was pleased to see DE fans outside Japan. I asked if he would be making a sequal someday, and he replied that it was likely, but not for a long time. At least I can keep my hopes up. The following are the farn arts.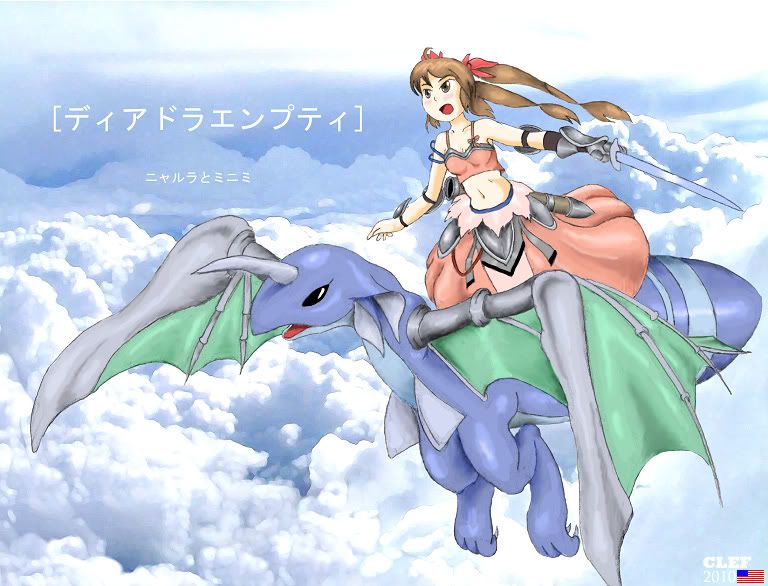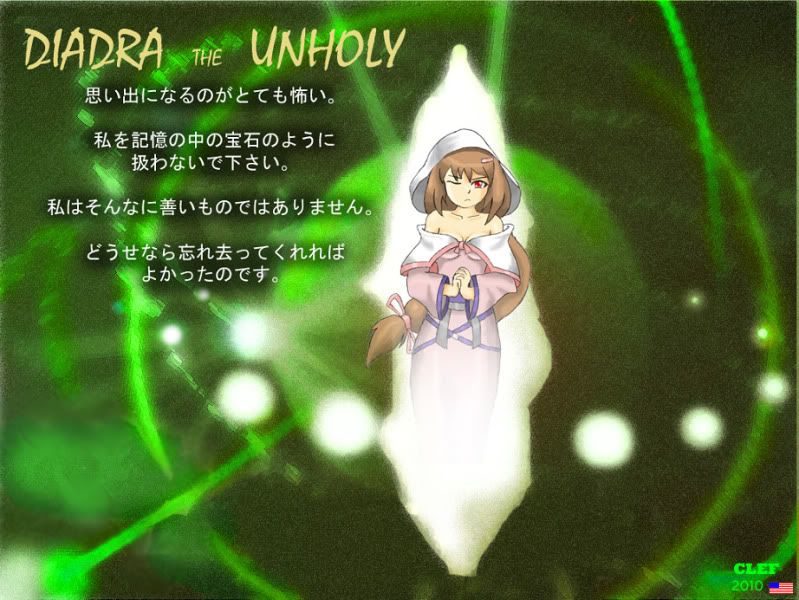 The first is of the main character, Nyalra. The second is of the "villian", Diadra. The third is a chibi-picture of one of the end bosses. Diadra Empty was also named 2009 Independant game of the year in Japan. A well-earned title, indeed.
Here is some gameplay footage. http://www.youtube.com/watch?v=_scNTNVkKXA
-Clef
Hive Workshop
I would like to do a quick shoutout to Hive Workshop. I used to be heavily into Warcraft 3 Map making. Warcraft 3 is still one of the greatest games for the simple fact that it's built-in map editor is basically a build-your-own-game engine. I've seen every kind of game be made it with. Traditional shooters, sports games of every kind, very in-deph role playing games, First & 3rd person shooters, racing games, flight combat games, turn based RPGs, risk-style strategy games, YOU NAME IT. You can also import custom models and music to create maps of any different themes, from fantasy to space-age sci-fi. (i.e. star wars maps complete with star wars custom made models/music and so forth). The only limiting factor of the Wc3 world editor is it's own graphics engine. In short. Warcraft 3 is worth getting just for the editor alone.
That is the leading site for WC3 resources
http://www.hiveworkshop.com/forums/maps.php?u=VGsatomi
That is the link to all the maps I made years ago, under my old username "VGsatomi" Most were probably made outdated by the scores of newer made that have been posted over the years. Shadow Heart Solo was my best work. If any of you still have warcraft 3 installed, feel free to try those out or any of the countless other maps there!
Warcraft 3 was what convinced me to pick up WoW, so I have to give it props for that.
S&K's fist 30 days
Sara & Kleeyo has now finished its first 30 days. Beginning on Dec 11, the comic as received almost exactly 10k hits right as Jan 11th rolled around. I am really happy with the outcome and I feel as though the comic had gotten off the ground quite nicely. Although it helped that WoWeh had my quest comic up at its "latest comic" for almost 3 weeks. I know nearly all my visitors were readers from there.
The time needed to build each comic is still rather great, which is why I'm still looking into ways to improve tablet drawing techniques. Direct-to-digital drawing would save heaps of time and allow me to draw larger comics each week. I feel as though I'm finally starting to develop a standard character design for Sara, who is by far the most challenging of the characters to draw (at least in a way that she looks the same every panel).
Overall, thank you all for a great first month. I look forward to seeing you all in the months ahead!
-Clef